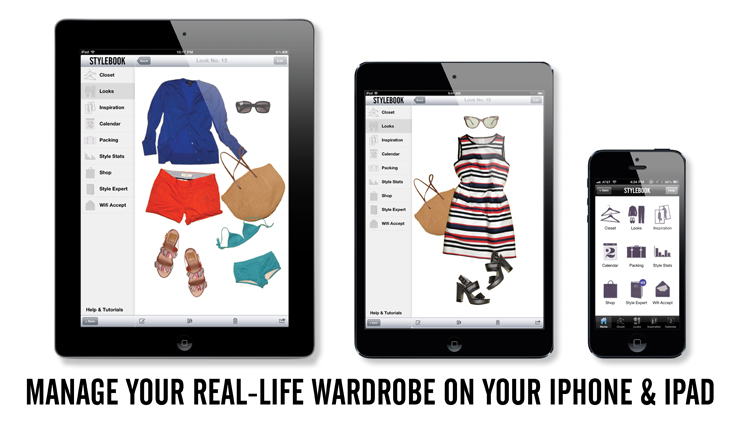 Many of my clients are surprised that once we sort through their wardrobe that the shopping list is significantly smaller than expected. Often it's because we unearth fantastic (forgotten) pieces that have been hiding in the wardrobe.
We actually only wear 20% of our wardrobe 80% of the time and it is those pieces that are located in prime position in our wardrobes or on the top of the washing pile that end up on endless rotation – even though they may not inspire us. Often it is because we do not actually know what we have in our wardrobe or do not have the time to create new looks with the pieces that we already have.
Imagine then if there was an app where you are not only able to store a picture of every piece that you own but you can also create looks that you can refer to at any time – time to be inspired and excited about your wardrobe again! The app is STYLEBOOK.
What is Stylebook
It's your virtual wardrobe. Use it to create a pictorial inventory of your wardrobe and create looks for every occasion.
Features
Closet – access your entire wardrobe on your iPad or iPhone at any time. It is a reminder of what you have available so that when you are tempted to buy that black top that funnily enough looks like the other five black tops in your wardrobe you may think again.
Looks – create looks for any occasion. This feature is great for work wear as we often take the time to create the perfect ensemble for an event or an evening out. Let's face it we often have a Monday, Tuesday, Wednesday etc outfit because early in the morning the last thing we want to do is create a new look.
Packing Lists – perfect for a weekend break, holidays and work trips. The packing list ensures that you have every occasion covered and mix and match pieces so that there is plenty of space in your luggage for a few cheeky purchases.
Calendar – possibly not a requirement for everyone but if you attend a lot of functions and don't want to be known as the equivalent of the Seinfeld 'Super Girl' (you know, the woman who always wore the same black and white dress) it is a handy feature to ensure that you don't wear the same outfit every time you meet the same people.
Shopping – consider this as a pin board for your wishlist. It is also handy to see if the item you wish for works with the rest of your wardrobe. Even better share your wish list with friends and family. No more unwanted birthday and Christmas gifts.
Size Tracker – record your measurements to compare against size guides on online shopping sites.
Wi-Fi share – share your wardrobe with friends and family – even better share it with your image consultant. Put the challenge out for friends and family or even your stylist to come up with new and interesting looks for you.
How does it work?
Take photos on your iPhone or iPad of each item in your wardrobe, categorise by type of garment and select items to group together to create looks.
Top tips
If you have the time to sort your wardrobe and photograph it in one day – well done. Otherwise I recommend sorting and photographing one section at a time (i.e. dresses, trousers, skirts etc) and removing any unsuitable items at the same time. If it's not worth photographing is it worth keeping?

When creating looks it's easiest to start with a base piece such as a skirt, trousers or dress and then add pieces and don't forget the accessories.

Refer to it when shopping to ensure that you are not buying something that duplicates items that you already have and ensure that it will go with at least 3 other items in your wardrobe.

Have fun!
I use this app and recommend it to all my clients. It is a fantastic way to keep track of your wardrobe and really make it work hard for you. Not only that – it's lots of fun! It's almost like having your online shopping store.
The Stylebook app is only available for iPhone and iPad (android version is in development), for more details visit www.stylebookapp.com.
Even better news, there's now a Stylebook app for men.